Tess & The Chiefs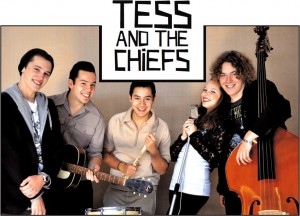 The Dutch Twin (19) singer/songwriters, Tess & Joël Gaerthé, last one a.k.a. Joey Ashtray (Ashtraynutz ) are responsible for the unique vocals of this band.
Tess, well known in The Netherlands due to her winning the Dutch finals of JSF in 2005 with her song "Stupid" followed by several # 1 hits in the Kids top 20. Now, a "kid" no longer but still in search of THE genre and sound most close to her own musical soul. The jazz education she followed so far clearly worked out well. Her very special voice combined with the rare old school sound of her twin brother is what makes this band unique. Solo as well as acting as each others backup, they are a joy to listen to.
Add to this the already famous (at 19!) very talented guitar player Dusty Ciggaar and this band can't go wrong. Dusty is also aided by his brother, little drum king Darryl Ciggaar. Young still, but very experienced because of his regular stints as back-up drummer for his brother's band The Rhythm Chiefs.
Bill Mookhoek is filling in the bass parts. He has no relative to lean on in this band but he is perfectly capable to act solo. Bill is also a member of Kim Hoorweg's band.
Their new CD "TIME WARP" is hard to cast into a particular type of music. An old school jazzy sound, sometimes leaning towards western swing but clearly of this day and age.
You have to see, hear and experience Tess & The Chiefs. Besides their magic sound this band, due to their youth and enthusiasm, also makes a very nice picture.